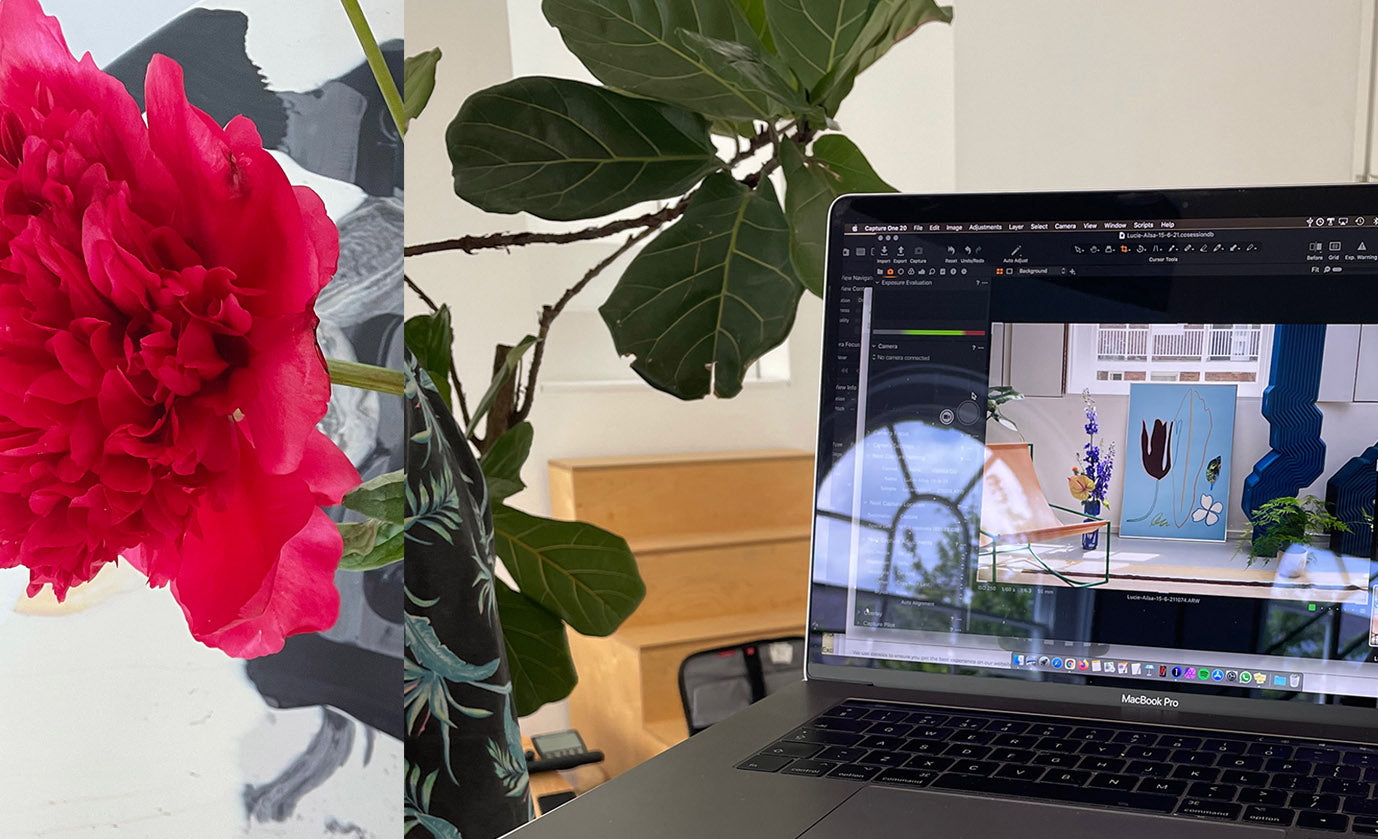 Shooting the collection
After a lot of searching I came across the 'Blue House'; full of plants, paintings and colourful objects it was the perfect place. Set within a former methodist chapel in N19, it sits between Islington and highgate wood.
Having spent the last couple of years building my business I finally had a window where I could properly plan a photoshoot to showcase the collection. I wanted to find the perfect spot to photograph my prints and also find somewhere which would really compliment them and help show how they work in a home. 
One of the things that was so important to me when I started selling my prints was for their bright tones and cheerful shapes to bring some joy and colour into the home; to brighten up a corner, bring new energy to a room, liven up a hallway. We spend so much time in them we might as well go for it with the interiors, make them our own and let the walls tell our stories. Home is a sanctuary, a place we go full cosy mode in the winter and enjoy our outdoor spaces with friends in the summer as well as a place to welcome us back after a holiday.
Forever collecting bits and pieces from places I've lived, I loved how there were also these objects which Morgwn (the owner of the flat) had collated and were the perfect backdrop to style my pieces. Whenever I buy a print or artwork I always love to pair it with a few other things to build a bit of a narrative, or simply what sits well next to one another. For example if the colours work well or if there's a common theme of travel, souvenirs ,a good memory of somewhere, being with friends. I'm always hanging on to cards and notes from all sorts of places which work brilliantly paired next to other things.
The Dirk Van Der Kooij table was even more awe inspiring in real life, I had this idea of having it as the backdrop – such an amazing example of when you can use creativity to help turn waste into something new and incredibly beautiful. His melting pot tables are created from recycled plastic and other discarded materials, his pieces are a true celebration of a visual language with endless possibilities that envelops function, tactility, and the beauty in oddity. Currently stocked at liberty you can find his chubby chairs constructed from recycled fridge interiors and molded through the use of a giant 3D printer.
For the shoot I used London based photographer Yeshen Venema who specialises in product photography and running his own photography workshops where he teaches the art of taking the perfect product shot. With a wealth of experience he was the perfect person for the day - also very kindly offered to run to Big Jo to get pastries for a much needed sugar hit. A dream to work with we got through a very ambitious shot list, and as I could only rent the space for a day it was a pretty tight schedule but we managed to get all the imagery and super happy with the result, hope you think so too!
A few things to mention incase you're interested; the architects who Morgwn used to redesign and renovate her home were West Architecture. London based Architecture design studio that in their own words 'believes in logical, rational design that uncovers beauty through elegant problem solving, striking a balance between artistry and technical ability. The end result of each project is actually the distillation of many design solutions that form the most plausible and pertinent outcome.'
The resin ware that was used in most of the photos is by Dinosaur Designs an Australian design studio globally recognised for their luxury, handmade resin homewares & jewellery.
I used all Neilsen frames which are really high quality and good value. The white and black oak are the ones I always use. They are available in the 210mm x 290mm size and 300mm x 400mm.
On a site note - I recently saw this beauty of a home for sale on The Modern House for anyone interested in this wonderful space. It will set you back a cool 900K so sadly out of our budget for now, I can still dream..
x